Information Radio on the Road (Previous Editions)
Dayton Celtic Festival -- July 26 - 28, 2013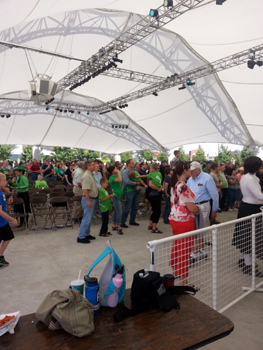 There's only one time in Dayton when you can run a 5K and then taste Irish whisky, attend a Gaelic Mass and watch high energy Celtic-themed performers - or Irish linen and wool workers if you're so inclined - all in the same weekend.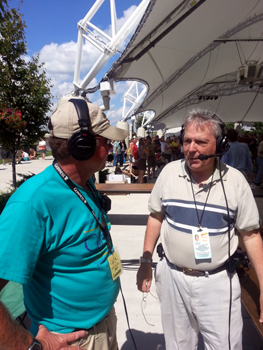 That weekend is Dayton Celtic Fest.

One of Dayton's most popular festivals came to town again. The United Irish of Dayton Celtic Festival blows through RiverScape MetroPark, bringing with it authentic Irish food and beer, cultural traditions, crafts and of course, the ever popular music. 2013 is the 12th year for this annual event.


Headliners included fan favorite bands Scythian, Gaelic Storm, Teada as well as newcomer, FullSet. Other entertainers include Miami Valley Pipes and Drums, St Andrews Highland Dancers, Celtic Academy of Irish Dance, McGovern Ceili Dancers, Dwyer School of Irish Dance and the Royal Scottish Country Dancers. Additionally, you could sample authentic Irish beers and there was also a Whiskey tasting. Seating was limited on that one.

On the other hand, for those who wanted to get out and move, the event featured a 5K Run/Walk, sponsored by Kettering Sports Medicine and a Celtic Bike Ride was held Sunday, July 28, at 8:30 a.m. at Don Crawford Plaza in front of Fifth Third Field.
Click here to hear our broadcast from the 2013 Dayton Celtic Festival
Information Radio Visits the Dayton Dragons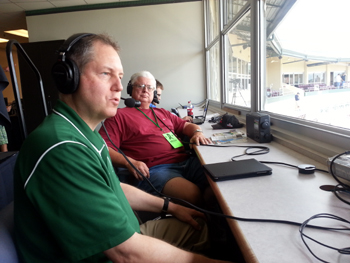 The Dayton Dragons is Dayton's professional minor league baseball team. Ever since the first game, home games have all been sell outs. In July, 2013 Information Radio took a trip to a home game and was able to speak with representatives of the front office, broadcast crew and Dragon's pitcher Drew Cisco. Information Radio's Noel Baldwin and Norm Schrein take a trip to the Dragon's press box to provide the program.
Norm Schrein Interviews Dragons Pitcher Noel Baldwin interviews Dragons play-by-
Drew Cisco play announcer Tom Michaels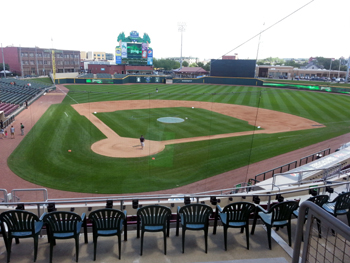 5/3 Field prior to game time
Listen to Info Radio's trip to the Dragons
Information Radio Visits the Ronald Reagan Presidential Library in Simi Valley, CA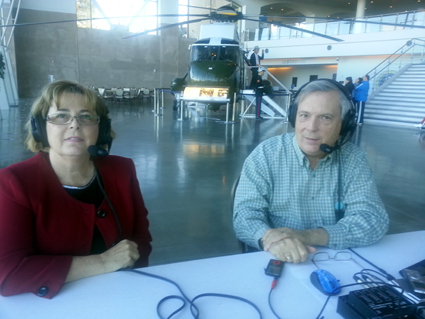 In a storied career that spanned more than five decades, Ronald Reagan inspired Americans to act and achieve even more than they imagined. His legacy thrives at The Reagan Library where events and exhibits rediscover his values, actions and spirit of determination.
Perched atop a hill with sweeping views of the southland, the Reagan Library is one of California's most beautiful and unique destinations.
Information Radio visited the library on December 1st, 2013 and we were able to speak with Carol Cohea, one of the staff members at the library. Listen to this informative program on the Ronald Reagan Presidential Library by clicking on the link below.
Norm Schrein speaks with Carol Cohea at the Reagan Library
Listen to our broadcast from the Reagan Library
Dayton Hamvention -- May 15 - 17, 2014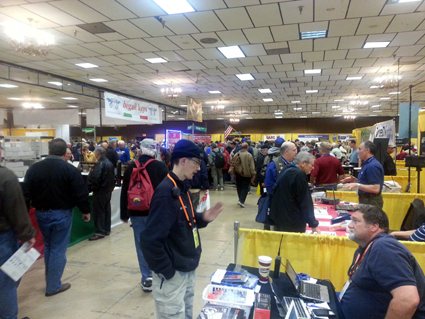 Information Radio heads out to find out what is new not only in Amateur (Ham) Radio, but other electronics as we talk about all aspects of radio with those in the know. The Broadcasts were originally recorded at the Hamvention and then aired on June 3rd, 2012. We spoke with a representative from C Crane Company, QSO Radio Show, ARRL, Gordon West Radio School, Whistler, Win Radio, Ham Test on Line, Alinco and the American Legion Radio Club. Pick an interview from the links below and learn what is happening not only in amateur radio, but the great electronics hobby.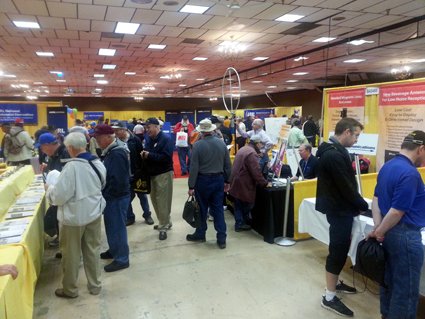 Gordon West & Erich Nichols, Gordon West Radio School
John Cunningham, Ham Test on Line
Marty Justice, American Legion Radio Club
Dayton Celtic Festival -- July 25 - 27, 2014
Information Radio takes another trip to the Dayton Celtic Festival which was held at Riverscape Metropark in downtown Dayton.
Here we had a chance to speak with event organizers as well as entertainers.
Listen now to this replay of our live broadcast from the 2014 edition of Celtic Fest.
Listen to the 2014 Celtic Fest by clicking here
Trip to 5/3 Field -- July 20, 2015
Noel Baldwin and Norm Schrein made a return trip to 5/3 field and the Dayton Dragons on July 20, 2015 where they were able to interview team members, management and staff of the Dayton Dragons team. Listen now on the link below to the program as it aired on July 20, 2015.
Listen to our broadcast from 5/3 field on July 20, 2015
Dayton Hamvention -- May 19 - 21, 2017
The 2017 Dayton Hamvention began its move to a new location with the first Hamvention to be held outside of Mo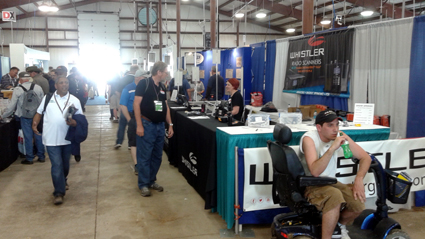 ntgomery County. With the demise of Hara Arena the show was forced to look for new home and found it at the Greene County Fairgrounds in Xenia, Ohio. Information Radio's intrepid reporter Norm Schrein spent the weekend at the fairgrounds talking to all sorts of people involved in the amateur radio hobby. Click on any of the links below to listen to the interviews.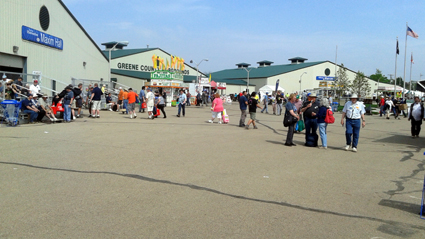 Barry Baines - AM SAT

Dan VanHoy - C Crane Company

Don Arnold - Kenwood

Paul Opitz - Uniden America

Sean Kutsko - ARRL

Wendy Taylor - Whistler Group