Mr. Scanner Public Safety CD Rom On-Line Lookup Screen Shots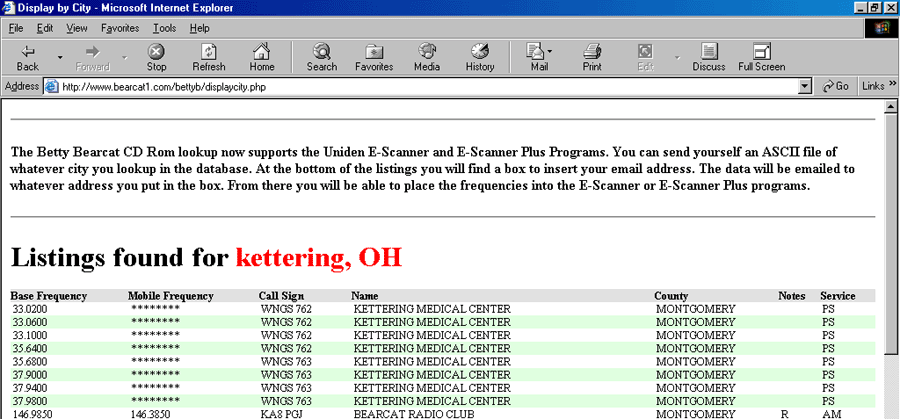 Screen Shot of the top of the city/state search results page
The Mr. Scanner Public Safety CD Rom can provide frequencies for:

Police & Fire Departments, including Trunked Frequencies.



Medical frequencies, including Hospitals, Air Ambulances and Medics.



Local Government & Highway Department frequencies. Here you can tune into all sorts of governmental activities from the police and fire departments to the local dog catcher.



Forestry Conservation Frequencies. Now you can tune into the park ranger or game warden.



Transportation Frequencies. These include the frequencies for Aircraft (both civilian and military), Railroads and Taxicab companies.



Amateur Radio Frequencies. Listen to Ham Radio Operators in your area by tuning into their repeater frequencies.



News Media Frequencies. Keep up on the news as it happens by programming your scanner with frequencies used by news reporters to report the news back to their stations or papers.



Utility Frequencies. These are the radio channels used by your local utility company -- anything from the power to gas to water utilities can be found here.

The best thing of all is that not only can you look up the frequencies, but you can send yourself a list of those frequencies which will load into Uniden's E-Scanner program and then program into your scanner. For more information on E-Scanner click here.



With a subscription to National Communications you have unlimited access to the database, so you can look up and download as many frequencies as you want from across the U.S. and Canada.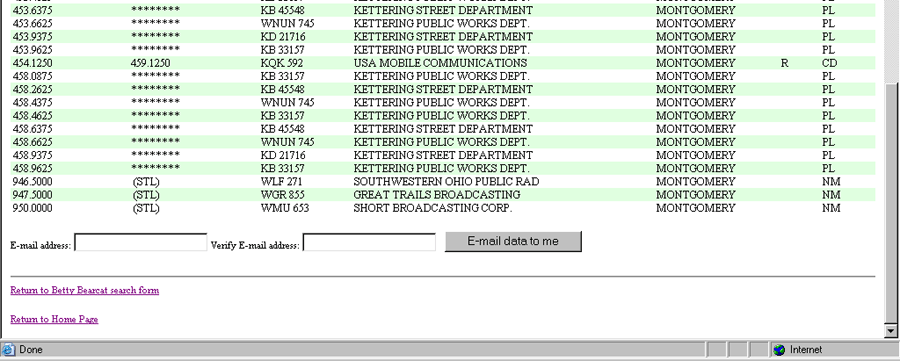 Screen Shot of the bottom of the city/state search results page with email boxes to send data

Subscribe to National Communications Magazine

Register to get a user name and password for Mr. Scanner Public Safety CD Searches